Roberto Masiero is a business and international relations expert par excellence! With an impressive list of experience validating such statement , Dr. Masiero is the Founder of Renaissance Evolution, a non-partisan/non-profit, market-friendly think tank based in Washington D.C, operating in the Education and public policy space with international reach and partnership with the Global Peace Foundation, ERGO, the Central American Integration System, the World Traders Association, the Latin American Presidential mission and the Broward County Florida.
As Founder and Dean of the Renaissance Evolution Academy Dr. Masiero has developed a new methodology to collaborate with leading international academic institutions in the creation of the Chief Cultural Executive Officer curriculum.
Roberto is also the Founder and Chairman of Bee Technology Group (Akamanta), a US-based holding company that operates as an expert advisor for digital, telecom, cybersecurity, and cleantech sectors.
He is a recognized expert in government relations, business strategy, media marketing strategy, and business development. An entrepreneur at heart, Dr. Masiero is always looking for innovative solutions. He is committed to providing value to the people whom he has relations.
One such example is his involvement in a software development project for the US Department of Education in conjunction with the "No Child Left Behind Act."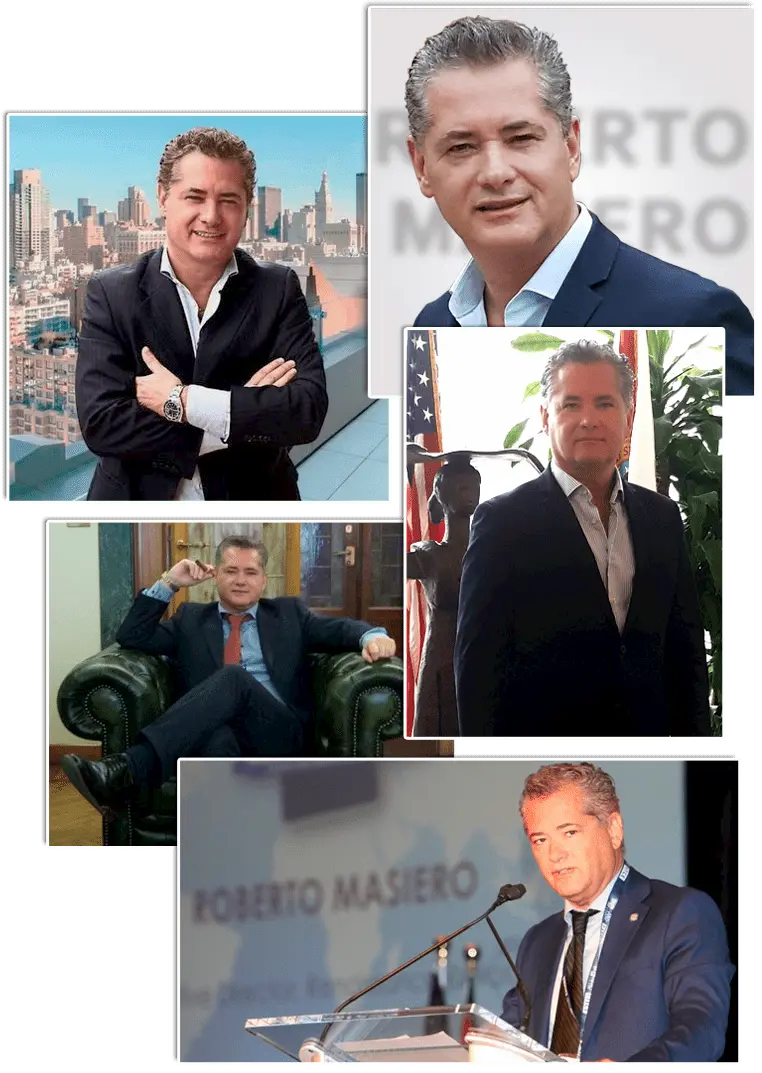 On December 12, 2019 during a video conference with the Vatican, he was appointed as Founder member of the new Observatory for the Security.
Furthermore, Roberto is an academic professor in the Brand Ambassador Program he started at BAU International Academy of Rome.
Due to his active interest in his community and endless list of participation in the public good, Roberto was recently named Ambassador for Broward County, Florida. A position which places him as an important liaison fomenting valuable lines of communication between the United States and Italy.
Renaissance Evolution Academy As part of our organization's mission to promote a new standard of minimal government interaction and sustainable business practices, Renaissance Evolution Academy has created two world-class programs for the benefit of its members and beyond. The first is a certification program focusing on companies' performance in the areas of; sustainability, philanthropy, corporate social responsibility, climate change, transparency, and cultural diversity practices.
Most, if not all of these topics have been operational themes encountered by companies.
However, our approach is modern and takes into consideration not just the human side of the equation, but also the impact on the participating company's bottom line. A true balance of business operations and global social responsibility can go hand in hand in making a corporation more profitable while differentiating it from others in its category.
Our intent is to ensure that corporations help reduce government dependence and leave a tangible positive footprint in the markets / countries where they operate. The goodwill generated will have a multiplier effect in terms of its brand, market expansion as well as increased earnings.
Renaissance Evolution Academy is collaborating with leading international academic institutions to insert the Chief Cultural Officer executive curriculum methodology in their MBA. In today's economy interaction with representatives, businesses and consumers from multiple countries, cultural / political / economic backgrounds is the norm. Understanding how to approach and cohesively apply inclusive business practices that allow seamless navigation of the new and continually evolving business diversity issues are key in the successful operation and expansion of companies. Our holistic approach to multinational; politics, culture, philanthropy, legal, regulatory, integrated communications, economic and environmental factors among others will position our Chief Cultural Officer candidates to successfully become the multinational face both internally and externally for its corporation. This new C-Level position will interact with internal divisions of; Government Affairs, Diversity, Communications, Strategy, Human Resources, Financial, Operations and others with direct impact on the corporate P&L.
This complete view of the company and its global, national and regional operations as well as its understanding of the local cultures and leading community / political figures in markets represented will in fact position him/her as a corporate ambassador. Much like a Secretary of State or Minister of Foreign Affairs, The Chief Cultural Officer will ensure that a company's global approach to business is market relevant, profitable and sustainable.
The 8 pillars of our Curriculum program: Transparency & Ethics, Sustainability, Culture & Education, Health / Wellbeing & Happiness, Trade / Economic Opportunity, Foreign Policy, Business for Good, Diplomacy & Peace Building.
Contact us